Celebrating Student Achievement
Announcing The Musical Ladder System®
Trophies, certificates and award wristbands to celebrate achievement.
Here at Morris Music Academy, we're always looking at ways we can improve your lesson experience and give our students more which is why we love to decorate the classrooms with glow in the dark stones all around it.  I'm excited to announce that we've joined up with a national music lesson award system called the Musical Ladder System®.  This is a proven system that helps students get excited about music and helps keep parents 'informed' as to how they are doing.
Similar to karate belt tests, every 3 months or so your teacher will schedule a test for you or your child. If the students passes the test, they will receive one of these really cool wristbands for their level. They also get a certificate of achievement. This program has been proven for years to bring a smile to parents and students and we're very excited about enhancing your music lesson experience.
At certain levels they also get personalized trophies with their name on it.
Later this year, once everyone is up to speed and has had a few tests, we will be launching the ukulele for beginners and the Musical Ladder System® Parent/Student Portal so you can log in online and see when the next test is!
This will take parent communication to the next level!
The best part?
It's all FREE for you our valued client.
Most karate schools charge their clients $50.00 per test.
PER test!
However, all of your wristbands, trophies, certificates and online account are all FREE and part of your tuition.
We can't wait to get started. It's time to start climbing the Musical Ladder!
Lesson Makeups…Solved
Introducing Academy Master Class Sessions
We're very excited to offer what we believe is the perfect solution to the missed lesson dilemma: Academy Master Class Sessions We're changing that part of our policy that currently states:
"Lessons canceled by the student for any reason cannot be made up, nor will a tuition refund/credit be given.  However the studio, at it's discretion, may offer a courtesy makeup based on the schedule of openings for the week."Due to high demand and limited space, we've decided to offer makeups in the form of academy master classes, rather than offer NO makeups at all.Now, if you need to miss a lesson, no worries. Simply sign up for one of our one-hour master class make-up sessions.
Why is this so awesome?  Some of the benefits include:
Master Classes are one-hour sessions that offer a new and enriching experience for the students and it gives them another chance to interact and learn from, and with each other.
As long as you're a student, makeups never expire.
Master Classes will be offered on several days/times each month.
The Academy Master Class Session signup link will go live on June 1st. You'll need to signup at least one week before the class you'd like to attend.
---
We know many of you have summer plans and we hope you have tons of cool adventures! Since Morris Music Academy is open year-round, it's a good idea to start thinking about summer now!
"How do lessons work in the summer?"
A. Morris Music Academy is open year-round, and we do not close in the summer.
"Will there be space available in the fall?"
A. We actually grow in enrollment during the summer months! Some students withdraw, but we are getting a huge influx of new students for the summer and majority continue into the fall.
"How full is the Academy?"
A. As of today, we have 120 students and adding a few news students every day. The prime-time spots between 2:00pm-8:00pm are going fast and nearly full on some days!
"If I withdraw for the summer, can I keep my spot for the fall?"
A. Lessons are first come, first serve so if students withdraw for the summer, we cannot guarantee that you will have a spot in the fall, as we will open the spot to new students.
The big questions for all parents and
students to consider are:
Do you want lessons with your teacher in the same time slot for the fall?
Do you want to keep your Musical Ladder System level for the fall? 
If the answers are YES, there are TWO WAYS to keep your spot – please talk to the front desk so we can help you!
---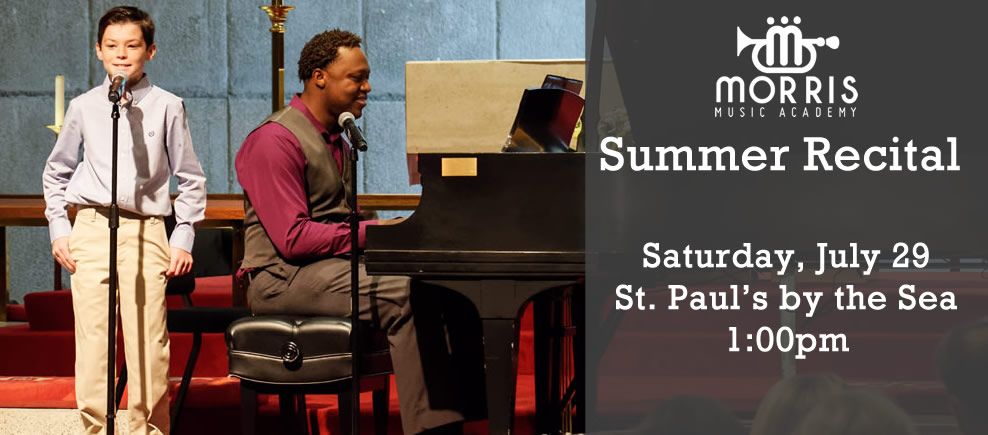 It's Recital Time!
We Can't Wait to Hear You Perform!
There are many benefits for participating in a recital including:
1)   Giving students something to work towards (motivation to practice!)
2)   Performance experience
3)   Inspiration from watching more advanced performers
4)   A feeling of pride and accomplishment
We are looking forward to seeing our students showcase their musical talents at our first Summer Recital at St. Paul's by the Sea Episcopal Church in Jacksonville Beach on Saturday, July 29th at 1:00pm. You'll receive a SignUp Genius registration email within the next couple of weeks.
---
Congratulations to our May Student of the Month, Emerson!
Emerson is a piano student with a passion for learning and recently performed in his very first recital.
Keep up the great work, Emerson!
---
DON'T FORGET – THE ACADEMY WILL BE CLOSED
FOR MEMORIAL DAY, MONDAY MAY 29th!
---
Morris Music Academy – Family Safety Comes First
Closed Circuit Monitoring of lessons rooms and reception.
Background checks on all instructors and staff.
---
Referral Rewards
Refer a friend and receive a FREE lesson!
And your friend will receive FREE REGISTRATION
(up to $35 value)